Travelling is a sport! Travelling is a teacher that teaches you from your experiences that you might not obtain sitting at home or going to school. Break away from your tiresome schedule and explore some rocking vacation spots in India – Hyderabad city.
Hyderabad city – rich in culture, royal in taste, is a place with esteemed history and charisma! Being the capital of Telangana, Hyderabad is a city thronged with people and droned with commerce.
Revealing its exotic landscapes and the rich cultural heritage this Old city of Hyderabad is India's one of the most reminiscent primordial quarters. The city is enriched with attractive Islamic architecture and fortresses that shouldn't be missed at all.
Must Visit Places In Hyderabad City
Exploring the lean lanes of the city you will encounter with some interesting urban flair with the booming commerce. The western part of the city is a pole quite modern and younger – 'Cyberabad or Hi-Tech City' – gleaming with malls, multiplexes, nightlife and elite restaurants.
Satisfy your travel appetite with a visit to Hyderabad this vacation!
Architectural Buildings
Charminar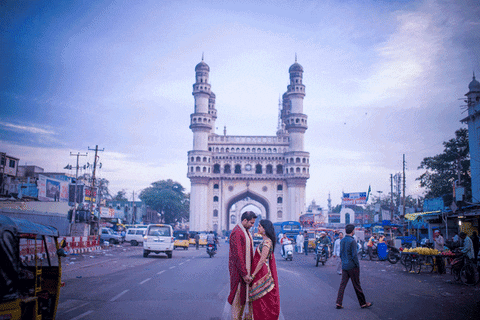 Beautiful, historic site located in the heart of the city. The tour of this walk along destination highlights two dynasties that ruled Hyderabad city. If you want to get a glimpse of Hyderabadi lifestyle and charm you ought to visit Charminar. This architectural site reflects Cazia style.
Walking down the Laad bazaar you get dazzled by the exclusive variety of lac bangles and pearl jewelry that will take you by the storm. The flea market here is also worth a stroll if you want to shop cheap and stylish.
Makkah Masjid
The Mecca Masjid is an ancient mosque built by Muhammad Quli Qutub Shah around 400 years ago. Amidst the chaos of the fluttering pigeons in the courtyard this mosque is the centerpiece of Islamic architecture and heritage.
The mosque is believed to be built from the soil brought from Mecca the holiest place for Muslims! People with faith for all religion are recommended to visit this exclusive place.
Other such architecturally interesting spots in Hyderabad are the Golconda Fort, Chowmahalla Palace, Nizam tombs, and Qutub Shahi tombs.
Museums
Salar Jung Museum
Salar Jung Museum is an epitome of the treasury of priceless artifacts and well-conserved exhibits from the ancient era. The museum has an exhaustive collection of art from India, Europe, Far East, Middle East, and Western Countries.
The collection has a vivid variety of sculptures, antiques, Persian carpets, Chinese porcelain, wood and ivory carving, paintings and statues and the list is gigantic. Check it yourself when in Hyderabad city!
Sudha Car Museum
The award-winning automobile museum is worth a visit while in Hyderabad. This is an interesting and amusing place of visit with a vast collection of handmade whacky cars by Mr. K. Sudhakar.
It's one of its kinds in the entire world having cool vintage cars and other creative vehicles. The 41 feet and 7 inches tall tricycle is recorded in Guinness World Records and was created in just 20 days!
The Nizam Museum and B.M. Birla Planetarium are amongst other places of interest in this category.
Water Bodies And Parks
Hussain Sagar Lake/Buddha Statue
It's the largest artificial lake in Asia that connects Hyderabad city to Secunderabad. A boat ride from Lumbini Park to the Buddha statue is an awesome experience of the calm and cool expanse of water.
The Buddha statue is a monolith – carved of a single rock – a classic example of sculpting. The laser show at Lumbini Park is a must for patriotic Indians.
NTR Garden
NTR garden is one of the most expensive gardens, regarded as an alluring entertainment and leisure center. Amidst the colorful flowers, shrubs, plants, and trees this park relish the visitors with its profound beauty. With some rides and activities and cool picturesque spots, this park is perfect for selfie lovers!
Nehru Zoological Park
The famous wildlife collection expands over a 300-acre area with Safari Park, Natural history museum and children train as the other main attractions here. The zoo is a safe heaven for a variety of birds and animals like Bengal tiger, jaguar, ostrich, emu, orangutan, star tortoise, cobras, peacocks and colorful talking macaws, and a lot more to awe for.
Amusement Attractions
Ramoji Film City
Welcome to the world's largest and lavish film city – Ramoji Film City in Hyderabad, India! With the carpet of lush greens over 2000 acres and the unending vastness of the sky, this film studio persuades imaginations and fosters creativity.
The open spaces and exuberant sets have been featured in many films – Bahubali being one of the most loved films of the era! One cannot depart from the city without a day out at this swoon-worthy landscape!
If you want to get rid of the sweltering summer take a retreat to the water parks like Wonderla and Jalvihar or sneak into the peaks of snow at the chilling Snow world.
Hyderabadi Cuisine
Last but not the least; burst your taste buds with the awesome mix of spices and food culture in the city of Nawabs. From the Irani chai shops to biryani houses Hyderabad city is famous for its mouth-watering cuisines.
The Biryani is a signature dish of the cityite's with an evoking mix of aromatic spices, meat, and rice. Hyderabadi haleem, Bagare Baigan, Mirchi Ka Salan, Kheema Samosa, Osmania biscuits, and Irani chai, Kubani ka meetha – a famous dessert made from apricot – are some famous delicacies you'll want to try in this Foodies Paradise!
Satisfy your itchy feet with a tour to the City of Pearls – Hyderabad. Whichever part of Hyderabad city you go you will be served with a mix of culture, heritage, modernity, and magical happiness!